Angel Alvarez is a seventeen year old Mexican-American goalkeeper. After playing in Pumas' academy system for over two years, he had to return to Nevada over interesting circumstances. OWTY originally covered his time in Mexico but with graduation in a little over a year, Alvarez now has some decisions to make.
How did you first get into playing goalkeeper?
Goalkeeping has been a passion for me since I was a little kid. I was born in Las Vegas, but I grew up in the city of Guadalajara, Jalisco, Mexico. That's the hometown for Club Deportivo Guadalajara, best known as Chivas, and I would go to all of their home games. This was around 2006 and their goalkeeper at the time was Oswaldo Sanchez. He was the keeper for Chivas and for the Mexico national team for many years. He was and is my biggest inspiration on being a goalkeeper.
You were scouted and brought to Pumas, where you stayed for quite a while. What was that process like and how was your time down there?
I played for Pumas from June 2012 to November of 2014. I was playing in Las Vegas for Las Vegas Premier SC before I left, and I heard from friends that Pumas scouts, Mauricio Pedroza and Sergio Bernal, were holding a soccer clinic that would help them see players to take out to Pumas. This was in December of 2011.
I attended the three-day clinic and on the last day they both told me that they're interested in taking me down to Mexico City to try out for the academy. So I went for a week in February 2012. Memo Vazquez, who was the director of the academy at that time, told me to come back to Las Vegas, finish my school year and when the school year was over, to report back to the academy.
Right after I finished middle school I went back to Mexico in June 2012 and it was just an amazing experience. The two years and a half that I was out there were just unbelievable. The city, the people, my coaches, my team mates, the fields, the other teams. Everything, everyday was soccer! The environment that was there was so professional like and the level of competition was unbelievable. One of the greatest experiences was to be able to interact so much with the first team. We would get to scrimmage them, practice on the field next to them, practice with them! And they were all very helpful and kind.
I lived in the "Casa Club". It was a house designed for players in the academy that didn't have family out in Mexico City and obviously needed a place to live. We had up to 24 people in the house with four to six players per room, each room with bunk beds. There, I discovered that I had a family. They weren't just my teammates or the guys that I lived with, they were my brothers. Everyone helped everyone out. The harmony was amazing. It was always a good time and we stayed laughing all day and every day. And this was a great thing, to feel the warmth of a family. Being out there on your own and making decisions on your own is very tough. I went out there when I was only 14 years old and I missed my family and friends every single second of my time out there. But the sacrifice was for a great cause and it was very worth it.
I would like to acknowledge and thank my coaches that helped me be a better player, as well as a much better person. Raul Alpizar was my first head coach, he decided for me to stay with his 96 team, when I first went down there to try out. Ellan Quintero was the assistant coach and we were champions that year. The next year my coach was Miguel Salas, with Ellan being the assistant again, this time with my age group ('97) and once again we were champions. And there was also, Ivan Gaytan, who was one of my goalkeeper coaches. But the two that had the biggest impact on my life, and were more than coaches that became my friends, were Eduardo Suarez, another goalkeeper coach, and Rene Anaya, our physical trainer. They had the biggest impact when it came to counseling, cheering me up, and training in every possible way!
I ran into Mauricio Pedroza a few weeks ago and he lamented how you had done so well with Pumas but couldn't stay because you couldn't get a release from the US to play there. What happened with that process?
I know Mauricio Pedroza really well, he helped me out a lot out there. Well, where do I start? When I left the Nevada Youth Soccer Association, I wasn't officially withdrawn from the pool of players. So when I went out to Mexico City they didn't hear from me. The NYSA just thought I quit soccer and I stilled technically belonged to the NYSA. When I was in Mexico, there was no problem for the first two years because I wasn't playing professional yet, it was academy play. So when I was registered in the Federacion Mexicana de Futbol Profesional for u-17 play last year in August, which is the Mexican Professional Soccer Federation, that's when the whole problem started, because u-17 in a Mexican academy team is technically professional.
I was intended to be signed up for the Federacion Mexicana de Futbol Profesional, but I had to be either at least 18 years old or get an approved international tional transfer from FIFA. The first one was impossible because I don't turn 18 until November of this year, so my only hope was the international transfer. However, Pumas told me that it was a process that would take a really long time to be solved and was very difficult. I spoke with the NYSA, who were actually very helpful in trying to help me and Pumas so we could do things right. They said that they had no problem with me playing over there. The problem was that we had to get the transfer approved by FIFA because Pumas was signing professionally a minor from another country and that could put their availability to sign more players at risk, similar to what happened to FC Barcelona.
So since my contract with Pumas was still active and I was taking a spot in the clubhouse, it wasn't convenient for me or for the club to have me there if I was only going to practice but not be able to participate in official games. So the decision was made around November of last year that I had to leave the club.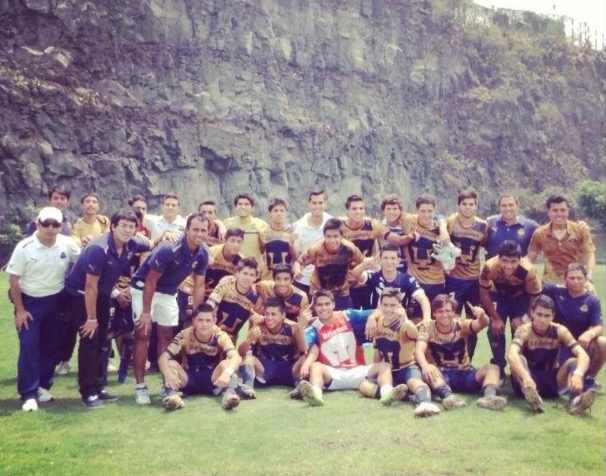 So where are you playing now?
I am currently playing with LVSA 97 Red, the current Region IV Regional Champions from my hometown Las Vegas. I joined the team only a month ago but it's been easy to adapt because they are all my old teammates and I know them all. We are a strong team and we are going for all of it. My team is in the championship series for the Nevada State Cup. Although I can't play in the State Cup because I came in too late, we are preparing to win this. It is our first objective. As a result of that, we would go to Idaho to defend our Regional Championship and we are decided to take it again.
Last weekend, we were the runner up for the blue group in the USYS National League, which was good enough to qualify us to the National Championship in Oklahoma this summer. We will prepare and with the help of God we will do a great job out there. We want that National Championship.
What's the plan going forward? College? Mexico?
Many things are going on in my head about my future. Currently, I am attending Rancho High School in Las Vegas, Nevada. I am in 11th grade, and am working on getting my GPA up and getting my credits so that I can graduate without a problem with my senior class of 2016. I know that when I turn 18 I have the option to be eligible to go back to Mexico and try out for a team again but right now my mentality is to go to college. Soccer is not going to last me my whole life and more than that, no one guarantees me that I will live off of soccer. It is important to be prepared in life for every situation. I want to be a professional soccer player, but I have to be prepared for life after soccer.