After a long journey, Bobby wraps up the college chapters in his player journal. You can read all five of his here, dating back to the summer of 2016.
The last time we talked you were at Monmouth. Catch us up from what happened over the past year that led you to Mount St. Mary's.
When I graduated from Monmouth in the Spring of 2018, I had a remaining year of NCAA eligibility because of my redshirt junior season due to injury. I recognized that I needed to take a long term view regarding my career goals. Although my short term goal is to play professionally, in the best case scenario, two thirds of my work life will take place after I hang up the boots. I can't imagine myself spending 30 years of my life sitting all day in an office somewhere. My passion has always been soccer, so I felt the need to begin preparing myself now for a transition somewhere down the road to a position in the business of soccer, preferably in high level coaching. I loved my time at Monmouth, both on and off the field, but I didn't want to spend my final year of eligibility pursuing a master's degree that wouldn't fit with my long term dreams.
Therefore, I began looking at schools that offered a master's in Sports Management, the degree that I felt best suited my long-term goals. This led me to Mount Saint Mary's University, where Coach Bryan Cunningham sold me on the opportunity I would have to be a part of building a DI soccer program from the ground up. It's important to note that MSMU discontinued their men's soccer team in 2012, but thanks to an amazing amount of support from alumni, staff and school administration, the University opted to bring back the program for the 2018 season. This season was an incredible learning experience, with our team being primarily comprised of freshmen and sophomores. In fact, I was the only player on the team that had any prior DI soccer experience. Getting the opportunity to play the "veteran leader" role was unlike any other experience I have had in my career thus far. It helped me mature both on and off the field and better prepared me for the next step in my journey.
At the end of your college career, you suited up for three different schools. Is there anything you'd change if you could go back and do it all again?
On the "micro" level, there are of course particular decisions I made in certain games that I would absolutely do differently if I had the chance – staying on my line instead of coming out, a catch rather than a punch, etc. But that's the nature of goalkeeping and it is through our mistakes that we learn. So when looking at the bigger picture, I really like where I find myself now as a player and a person. I recognize that the journey I made, with its various twists and turns and highs and lows, is responsible for having brought me to this place. There were times when I felt a bit lost and questioned my path, but I was able to persevere – and learning how to persevere is at the essence of what is required to being a goalkeeper. I've learned that there is so much that is out of my control in regard to how a game or a season will evolve. So it is best to focus on what is under my control and to a large extent that is the attitude I bring to training and games. I constantly remind myself that the short term setbacks are not what will determine if I can accomplish my long-term goals.
As someone who's seen a variety of different programs, when considering helping players get to the next level, what's the strongest resource the NCAA has to offer?
In my opinion, there is no resource more valuable than that of a good head coach. When we speak about college soccer, we are often keen to focus on just the "on-the-field" stuff - wins, losses, goals, etc. In reality, that only makes up a fraction of what a college head coaches' job truly is. College coaching is unique - coaches are responsible for taking 18 year old teenagers and developing them into adults, which goes far beyond the field. Less than 2% of college soccer players continue on to the professional ranks, so if players leave a university with nothing more to show for it than a better understanding of the sport, you've let the majority of your players down in their life's development.
For the 1.4% of players who do continue on to the pros, a good college coach is invaluable to their professional ambitions. How many different connections does he/she have? Are they well established with professional teams? Are they experienced in sending guys to the pro leagues often? It might not be fair, but the reality of the situation is that sometimes it isn't a matter of how talented you are, but rather if you have the right connections to the next level. Don't get me wrong, you won't sign a professional contract because of a connection, but a good coach with the right contacts can get your foot in the door. Personally, I have been unbelievably lucky to play for Coach Cunningham at MSMU - his reputation speaks for itself and whenever I'm in his office, I admire all the professional jerseys that decorate his walls. Coach Cunningham and Assistant Coach Trevor Singer have been two of the best (if not the best) coaches I have had the privilege to play for. They are second to none and I have learned an incredible amount in just one year under their leadership. In regard to my professional ambitions, I sleep very well at night knowing that Coach Cunningham and Coach Singer are on my side.
What's the future look like moving forward? Would there be any disappointment if you never suited up in a professional match?
The dream is the same as it has always been - professional soccer. At the moment, I am keeping fit and staying sharp while I finish up my master's degree. Come May, I'll be heading back to South Carolina for the summer to play PDL (USL League 2 it's called now, I guess) with SC United Bantams, the same club I was with last summer. I had an incredible experience last summer, SC United Bantams is a top-class organization made up of some of the best people I have met - I cannot wait to be back. After another summer in South Carolina, I'll head off to trial both here and abroad and attempt to make playing soccer my job. It's pretty crazy to say that! I'm confident in my future and excited in what is to come.
To say that there would be disappointment if I never suited up in a professional match is an understatement. The one and only thing I have ever dreamed of since I was a kid was becoming a professional soccer player. My cousin, Brian Edwards, has been my lifelong soccer idol. In fact, I still have an autographed photo of him in my room. Brian played at Wake Forest, winning the NCAA national championship in '07 before being drafted to the MLS. I used to watch all his games, even following him regularly when he went abroad to Sweden, always dreaming to one day follow suite. If I never ended up going pro, I wouldn't just feel like I've let myself down, I feel like I would let down the family name.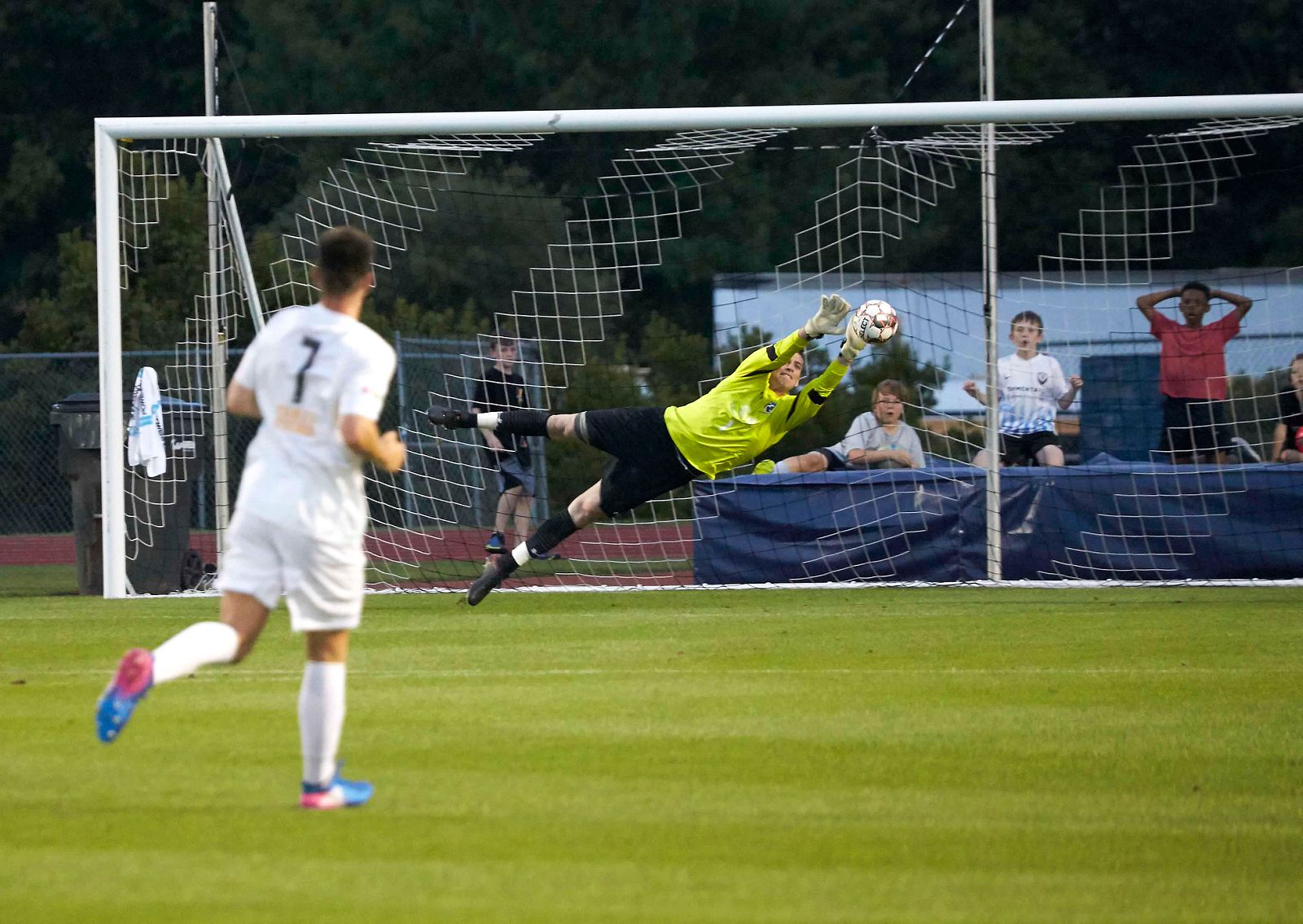 Pictures of Edwards with SC United Bantams as well as Bobby's cousin, Brian.
Lastly, and ending on a positive note here, what's your best save in your college career and what makes it a highlight of your career?
That's a tough one! I'd have to answer this one with two different saves for different reasons. Both saves came this year – the first one was against FDU and the second was against LIU Brooklyn. When you analyze a save, there are many different factors that need to be considered. Of course, the overall talent and skill it takes to make the save is of major importance – everybody loves a save that looks great for the cameras. But even more important is a save that comes at a crucial point in a game – one that keeps your team in the game even if it isn't as picture perfect. Sometimes you get lucky and pull off both at once!
My save against FDU was a highlight because it kept our team in the game against a very talented FDU side - we ended up walking away with a 0-0 draw. The save itself is perhaps not the best of technique, I get caught cheating to one side right before the striker hit the shot. The way it played out in real time, I was almost certain he was going to hit it hard and low to my left side. I still remember my heart dropping as I saw the ball come off his foot headed back the other way. Somehow, I managed to get my foot on the ball and pop it up and over the bar. I'll never forget getting back into the locker room for our halftime meeting and having a laugh to myself about that save.
The second save is the one I would probably consider my "best" save when talking in terms of technique. It was during the first OT period of our game against eventual NEC Conference champions, LIU Brooklyn. The striker got a bit of space outside the top of the box and bent one to the top left corner. It was just one of those shots that goalkeepers dream of, one that you can get some nice airtime and pose for the camera. By this time, we only had a few games remaining in the season and personally that meant I only had a couple games left in my college career, so it was nice to wrap up my collegiate career with a cool memory like that.