If you're new to the site or don't know how to pronounce "GSAR", check out my goalkeeping stat, Goals Saved Above Replacement.
I switched from "review" to "roundup" to really spice things up. Here's the weekly installment to get you ready for the weekend. What goalkeepers are doing well? Which ones aren't?
Nick Rimando still leads the pack. Bobby Shuttleworth holds second place and Chris Seitz (who will surely drop out of contention later in the season) falls to third. On the other end of things, David Ousted climbs out of last place with a positive performance while rookie John Berner (who was filling in for Colorado while Clint Irwin is injured) and Sean Johnson share the last two spots.
For the American supporters, they may be unsettled to see USMNT hopefuls Nick Rimando and Sean Johnson combine for a -1.61 GSAR this past week. As in they did really bad this past week. Lucky for you, here's a break down of their errors.
Nick Rimando vs. San Jose
The first goal is easy to miss Rimando's mistake. A great free kick into the mix and the ball ends up in the net. But watch Rimando's positioning: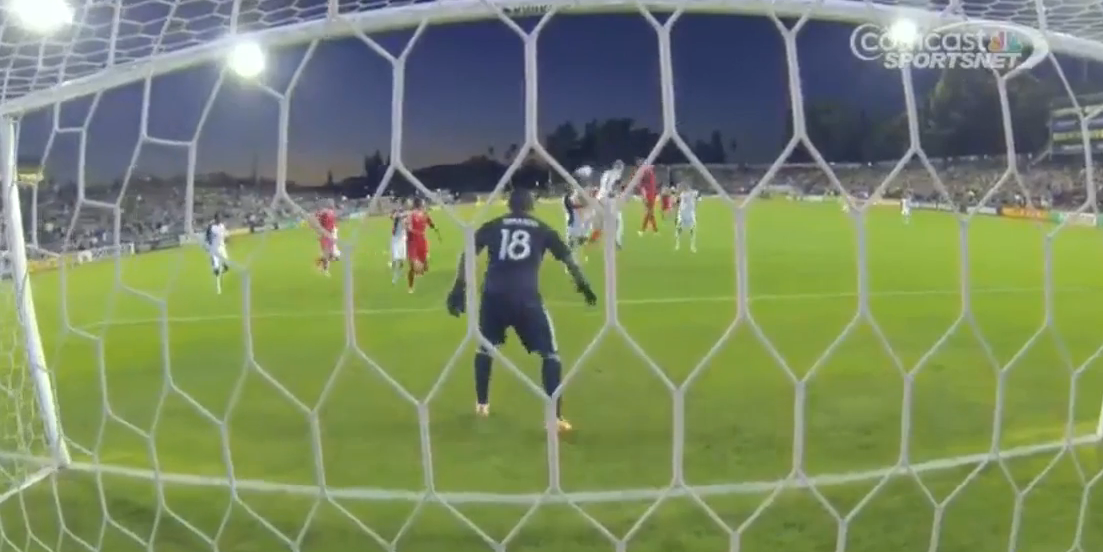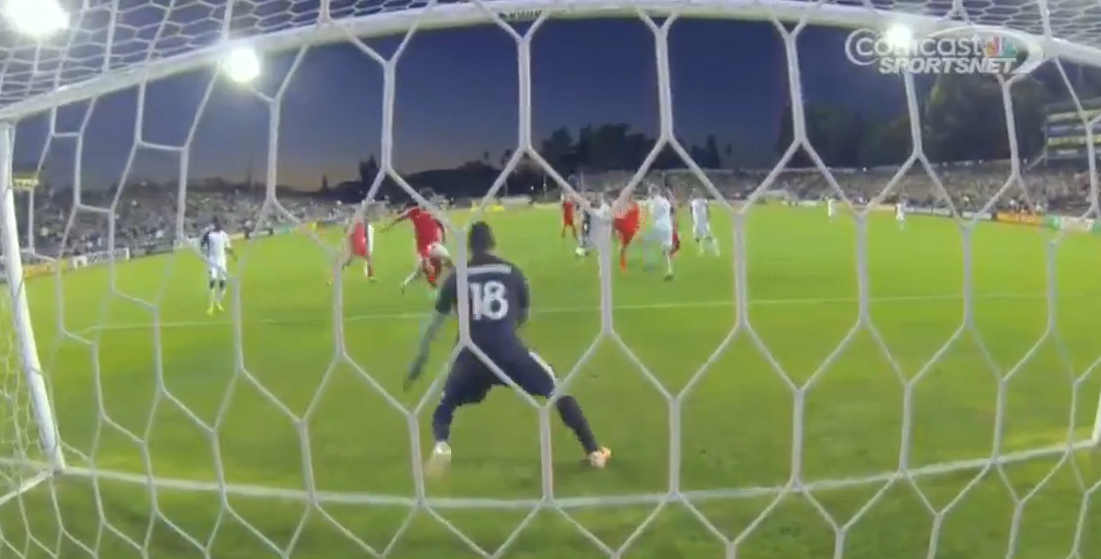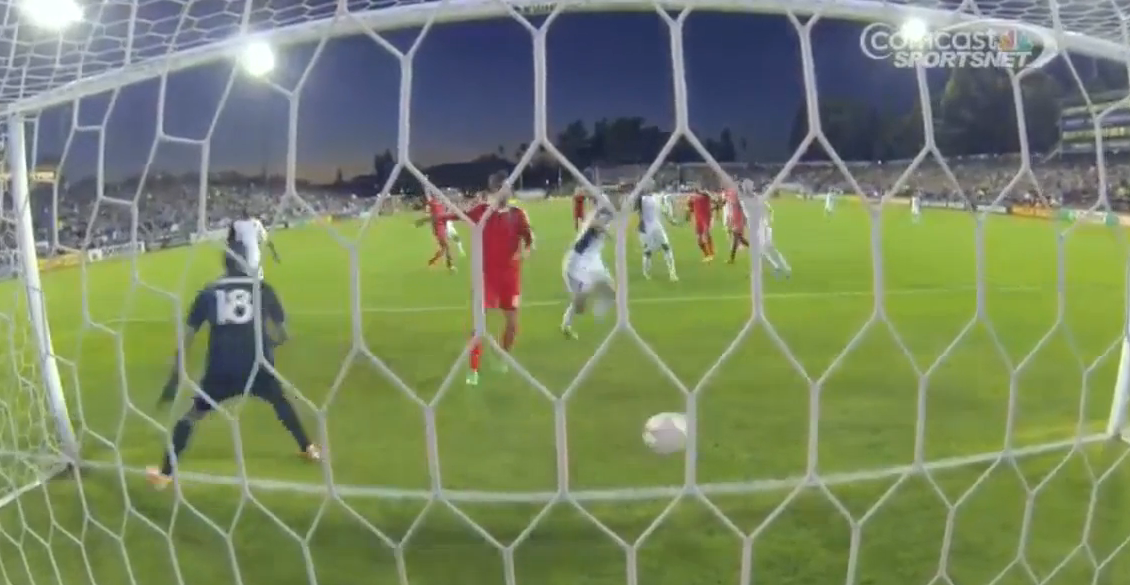 I don't advise entering the crowd and Rimando wisely sits on his line. As it trickles to Wondo, Rimando reads the play wrong and (I think) doesn't realize Wondo is about to take a touch. If Rimando stays where he is, a simple kick save keeps the ball out. However, Rimando doesn't see the oncoming Earthquake and guesses wrong.
The third goal is a typical Goonies-esque conclusion. RSL have trouble clearing it out and the ball is lofted into the 18 for the umpteenth time. 5'10" Rimando goes up against 6'3" Alan Gordon...
It's a 50-50 challenge, not one I would call foul on Gordon for either. The picture is a little blurry, but as the ball drops in, Rimando only goes up with his right hand, opening his side to Gordon. Because of this and the lack of size, Rimando gets edged out and even twisted a little bit. If Rimando uses his right arm as a shield (literally like he was holding a shield) he will protect himself from getting moved out of the way and his left hand can attack the ball more naturally, hitting it across his body and back out. Instead...
Rimando is spun by Gordon and Rimando's hand only gets a glance on the ball, hitting it downward, (aka the worst possible direction to hit the ball). The ball is slotted back post but if Rimando takes a better approach on the lofted ball, maybe RSL leave with three points.
Sean Johnson vs. Portland Timbers
Johnson really had a miserable game that he is looking to redeem this next weekend. The most obvious error was his whiff on coming out of the box around the 70th minute. (Highlights here, at 4:05) There were multiple times throughout the game when he struggled in the air or didn't hold a shot he could. At 5:30 in the video, Portland evens the score.
The ball isn't struck far from Johnson (notice how backwards he falls instead of diving out) but he doesn't hold the shot and the loose rebound is an easy put away. Johnson needs to hold this as it's clearly in his reach.
Other Notes
John Berner gets 'megged on a header. He needs to skip ahead with his eyes and see the shot coming sooner. (Young goalkeepers, don't make this mistake! You don't need to follow the ball the entire way in the air. Find where it is going to land and ready the shooter's body language.)
Zac MacMath is having a much better year but flighted balls are still a weak spot for him.
Julio Cesar made his first start for Toronto. I thought he reacted really slow on the loan goal scored on him.
Eric Kronberg is diving way too slow on this goal. Andy Gruenebaum, anyone?
It's still unclear if either Clint Irwin or Raul Fernandez will be ready to take their starting spots back. Both are dealing with nagging injuries.