cover photo belongs to Jason Getz/USA Today
Eight? That's right! Last week was so jammed pack with goalkeeping highlights (and lowlights) that we needed more space to cover it all. So let's get to it!
1. Poor Overhand Technique Strikes Again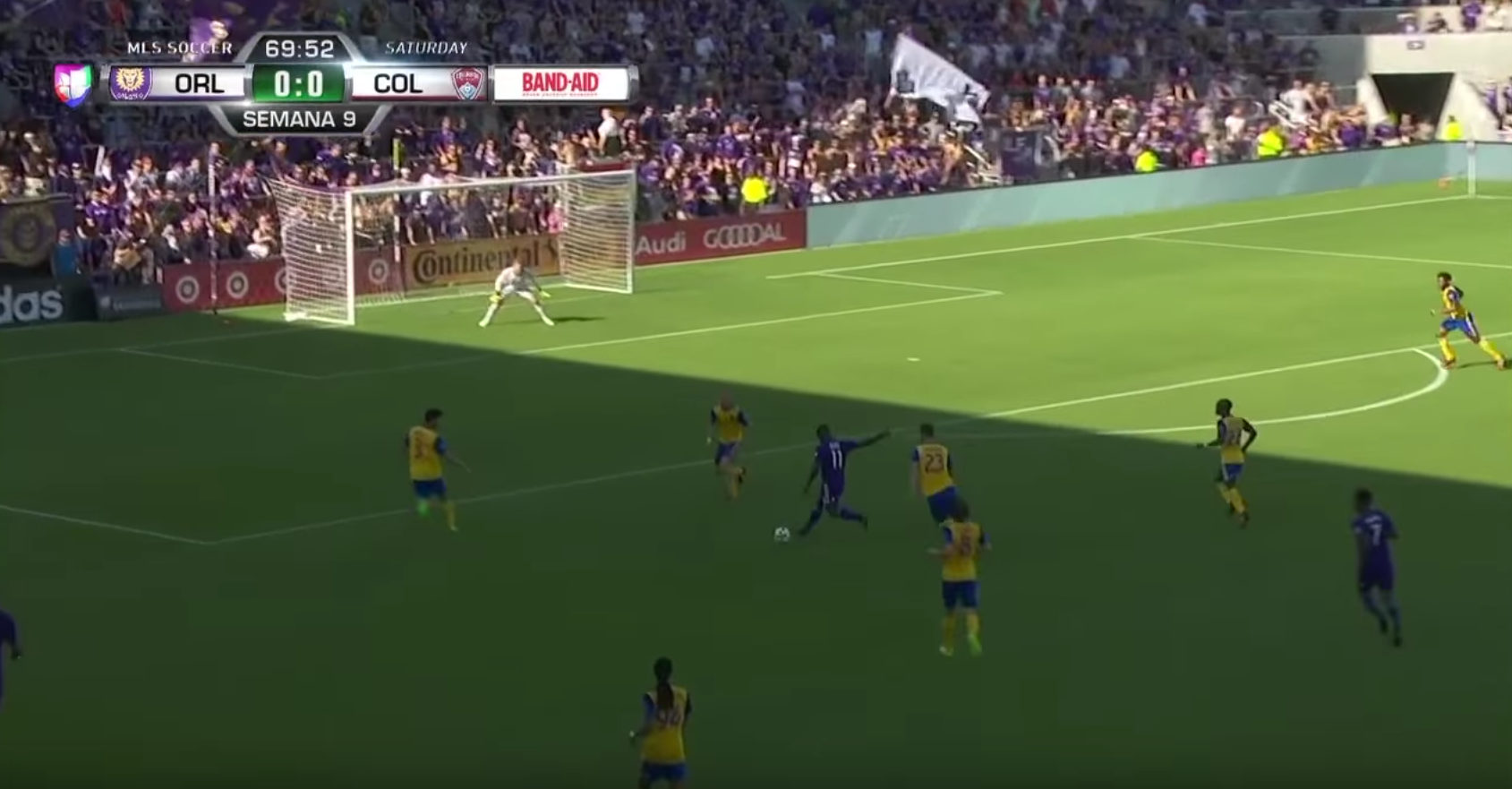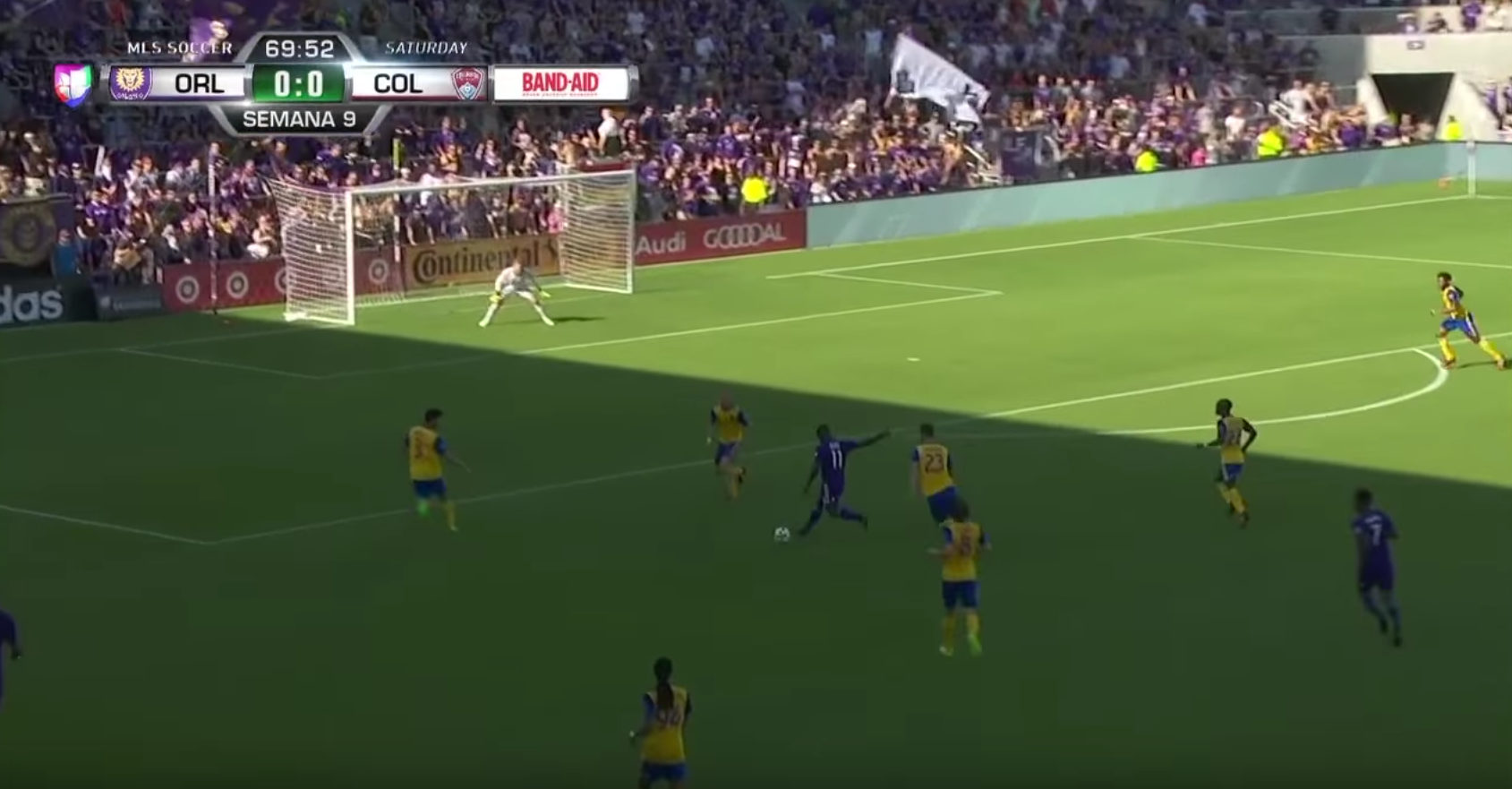 Watch the play here, starting at 2:07
Once again MacMath attempts the overhand save to no success. His footwork complicates the issue with a needlessly wide stance that limits any lateral movement, but the hand motion is a returning issue. Like we addressed last week, some believe the overhand save can do nothing better than diving with the nearest hand can.
There's definitely a valid point to the claim. Perhaps the better way to phrase is that a goalkeeper needs to find what works for him or her. If the overhand save isn't working, the goalkeeper can't expect it to just magically fix itself. For some, diving with the nearest hand might be a stronger option.
Personally, the overhand save is so similar to the over-the-crossbar tip (when a goalkeeper has been chipped and is racing back to the goal line) that it's easy to translate the two. Also I feel it gets better leverage to displace the ball but regardless, the answer for any goalkeeper is finding what works best for them. MacMath needs to revamp his strategy, which may result in a small tweak in technique or a completely different approach.
2. Hamid Turns in Another Polarizing Performance
For anyone who was watching the Eastern Conference match up on Sunday, who wasn't ogling over Hamid's two early saves? It really felt like Hamid was hinting at a return to form until the following goal.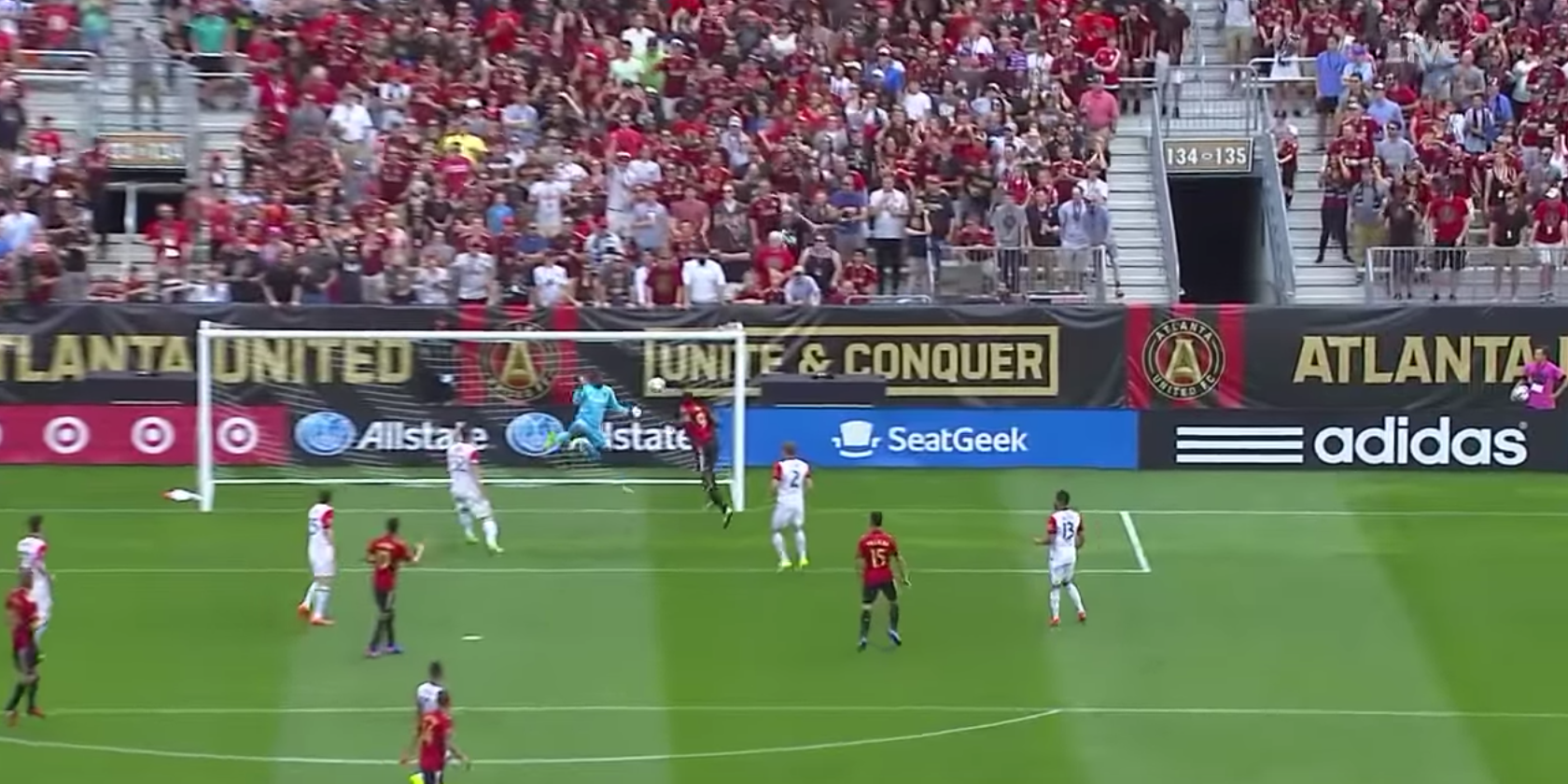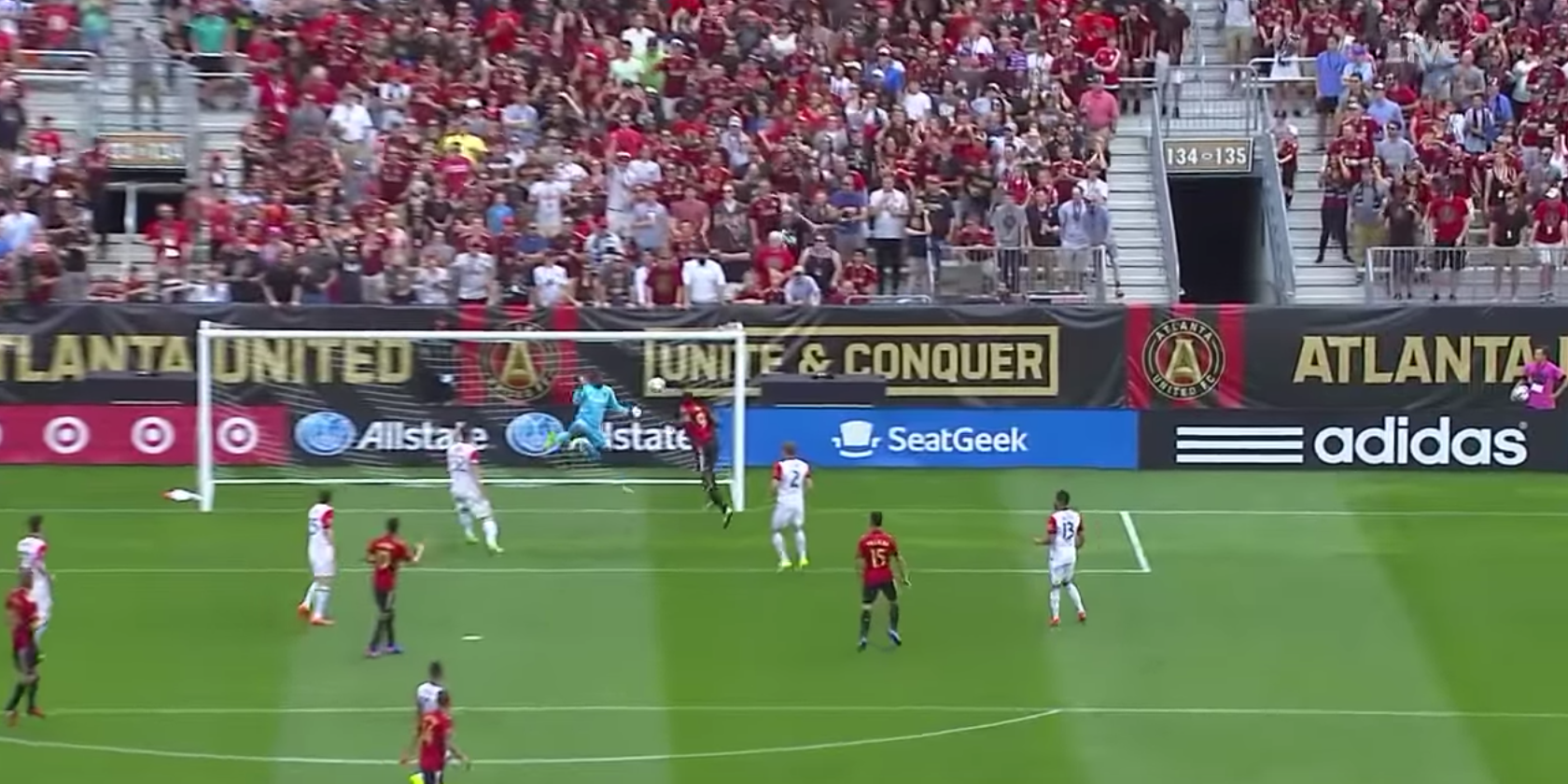 Hamid seems to have tweaked his groin on the second save, right before conceding Atlanta's lone goal for the afternoon. While there could be an argument for Hamid not being at 100% to make the save, the bigger problem is his approach. Yes, it's an unfortunate play but Hamid severely limits his chance of saving a shot (one that isn't too far from his body) by throwing his body in the air. Perhaps if Hamid was closer to the shot and the time to react was removed, the starfish would make more sense. But here, he can stay grounded. Doing so keeps the same surface area with his body shape, but with the added bonus of mobility to react to the shot, essentially doubling his size.
The game was a classic display of great-save-poor-conceded-goal. It's not a secret the USMNT needs more consistency, not chaos, in the back. If Hamid is truly wanting to make a run at the USMNT goalkeeper position, he needs to find that consistency to save what's in his reach and occasionally pull out the great save.
3. Attinella Showcases Impeccable Form
Play starts at 1:01
In the 58th minute, Attinella parries a rocket from just past the penalty spot. As the ball travels back down to a well-placed FC Dallas player, Attinella displays textbook skills on getting back to his feet. Notice how even and well-timed Attinella feet are when he plants. Both feet hit the ground at the same time and he can move either direction with ease. He's not awkwardly stepping into it or guessing which way the shot is going to go. It's a simple movement, but a much overlooked fundamental to goalkeeping and one that doesn't happen in MLS enough.
4. Ashlyn Harris Opens the Door for Criticism
After Orlando's 3-1 loss to North Carolina this weekend, Ashlyn Harris wasn't slow to say that her teammates needed to perform at a higher level.
I don't think anyone can disagree with Harris' main point: a 3-1 loss is not acceptable and players need to perform better. (Highlights here) You want to create an environment that has room for criticism so the team as a whole can step up their game. However Harris' own performance in the match left something to be desired, giving up a soft rebound on the first goal and misplacing a pass that directly led to the third.
At the end of the day, North Carolina still outshot Orlando (13-5, shots on goal) so the scoreline is warranted. But if Harris is going to start saying individual performances aren't good enough, she needs to own up to her own shortcomings.
5. Dropped Knee Strikes Again
Frei conceded probably his worst goal in his MLS career last weekend. In the 15th minute, Lee Nguyen strikes a knuckling shot from outside the box. The shot tails to Frei's right at the last second and slips in for the first goal of the game. It felt eerily similar to Dempsey's goal against England in the 2010 World Cup. You can watch the highlights from the game here, although there's not a great picture to pull from it.
As the ball dips towards Frei, he places his right knee into the ground. (This isn't a proper long barrier, for the record. The long barrier twists the hips and, in this case, would place Frei's right leg perpendicular to the oncoming shot.) The goal is another great example of the dangers with dropping a knee on a low-flying shot. If anything goes beyond expectation, the goalkeeper is stuck. The shot looks predictable until the last second, when it slides away from Frei. If Frei utilizes the front smother, he can shift his body weight, shoulders, and hands to cover the shot.
Some may argue that Frei just didn't do it right and if a goalkeeper drops his or her knee correctly, then it's not an issue. Personally, the technique is too hard to execute consistently without the occasional error, especially for skipping or knuckling shots. There are too many variables that can happen on a play, as displayed with Frei's mishap. The front smother attacks the ball, limiting the ball's movement, yet still gives lateral movement to help deal with a late bend or skip from the ball.
6. Next Era of USWNT Still Have Room to Develop
The three goalkeepers leading the pack to take over the USWNT goalkeeper spot are Jane Campbell (Houston), Haley Kopmeyer (Seattle), and Adrianna Franch (Portland). We talked a little about Campbell last week and with this week's games, the other two have given us talking points.
While there are a number of positives to talk about Kopmeyer's and Franch's abilities, the two struggled in situations they'll encounter again sooner than later. First, Kopmeyer and Seattle fell 3-0 to Boston, conceding all three goals from 1v1 situations. As we witnessed with the SheBelieves Cup this spring, the USWNT goalkeeper is likely to see more 1v1s with the 3-5-2, so they're fairly relevant for American goalkeepers. Kopmeyer isn't responsible for all the goals but there were some odd movements on the plays. On the first two, her body movement is a little off - it looks like she trips on the second one - and on the third she tries to kick save a shot heading to the top corner. For a goalkeeper who has shown tremendous strides over the last three years, her 1v1 game still needs some work.
In Portland, Franch held a 1-0 shutout, but not without giving away chances for potential goals. In the 22nd minute, she completely tackles Christen Press on an incoming cross. It's hard to tell if Franch gets a touch on the ball or not, which makes Franch's decision all the more risky. I think her right hand barely clips the ball, but if it doesn't this is an easy penalty call. The risk/reward for Franch here isn't worth it and there's a way to close down the angle without having to tackle Press, or at least minimize contact. Later in the 62nd minute she spills as simple collapse save, opening up another chance for Press to bag a goal. Added to the poor distribution from earlier in the season, she has her own parts of her game she needs to finish polishing.
It's not time to panic as all three goalkeepers have shown bright spots, but it's also not time to move on from Naeher and Harris any time soon.
7. Kann Snowballs Mistakes
Going back to the battle of the Uniteds, Kann had a terrible span of five minutes that led up to the second goal. First, a corner in the 36th minute led to a vertically skied ball that was coming back down in the box. Kann awkwardly walked out to basket catch the plummeting ball but dropped it in a crowd of players. Fortunately Kann was protected with a soft foul call but the free kick from Kann went straight out of bounds. The ensuing throw-in went straight to Acosta who ended up taking a mild shot from twenty yards out for the second goal. (Watch here, at 2:21) If Kann handles the corner like he should, collecting the ball clean and helping his team in transition, he removes the following errors and it's still a 1-1 game.
8. Van Oekel Thinking Ahead
Play starts at 2:24
Not a whole lot I can add here so I'll just present Van Oekel's header without comment.