Wow did that feel like the 2011 Gold Cup final to anyone else?
Nick Rimando started for the US while Sean Johnson and Bill Hamid watched from the bench. It is almost certain that Rimando will be the third string for the World Cup as Klinsmann isn't splitting halves anymore.
For this review, I'm going to include the US's goals against Mexican goalkeeper Moisés Muñoz just so this post will have a little more depth.
15' - Michael Bradley goal (1-0 US)
Before Bradley gets anywhere near the ball, Muñoz is trying to draw a foul by running into Omar Gonzalez and then getting stuck on Chris Wondolowski.
This is pretty dumb. And I'm not just saying that because he's the opposition as I'm clearly an American fan. I'm saying that because he has removed himself from the play and his defense for stopping the goal is hoping for a call from the ref. Omar Gonzalez actually starts moving away from Muñoz when he makes contact on him. Good no call by referee Roberto Moreno. Muñoz needs to focus on saving the ball here.
28' - Chris Wondolowski goal (2-0 US)
Muñoz does a good job of recognizing the danger and unfortunately for Mexico the ball drops in an excellent place for Wondolowski. Check out Muñoz's head check.
It's easy to get tunnel vision on the upcoming cross but Muñoz picks a good time to peek to the middle as it's a couple bounces until Beltran whips it in.
49' - Rafael Marquez goal (2-1 US)
Déjà vu? Poor marking leads to another goal in the Battle of the Rio Grande (patent pending). At first glance, Rimando makes little effort to save the shot but look how far it is from Rimando.
Of course we'd always like to see the effort but Rimando would need to know where that shot is going ahead of time to make that save. So we're going to give Rimando a pass there.
53' - Nick Rimando tip over
Tip overs look cool because the goalkeeper goes from stationary to a full extension save but I wouldn't go as far to praise him as Ian Darke did, "a very, very fine save"
Yeah, that's just him doing his job. Nothing to glorify.
61' - Nick Rimando save
A low shot from distance on a counter.
Rimando once again doing his job but slightly more challenging than the previous tip over. He gets low to push it out. But if he were taller...
67' - Alan Pulido goal (Tied 2-2)
A colossal failure on the defense's part. Julian Green heads the ball to Mexico to set up a counter. Kyle Beckerman doesn't follow his man. Nick Rimando makes little or no communication about the transition. Clarence Goodson gets 'megged on the shot. Rimando's stance is too wide to shuffle then dive. Omar Gonzalez isn't paying attention back post. Gonzalez is the easy goat here but I'd blame any of those previous four over Gonzalez.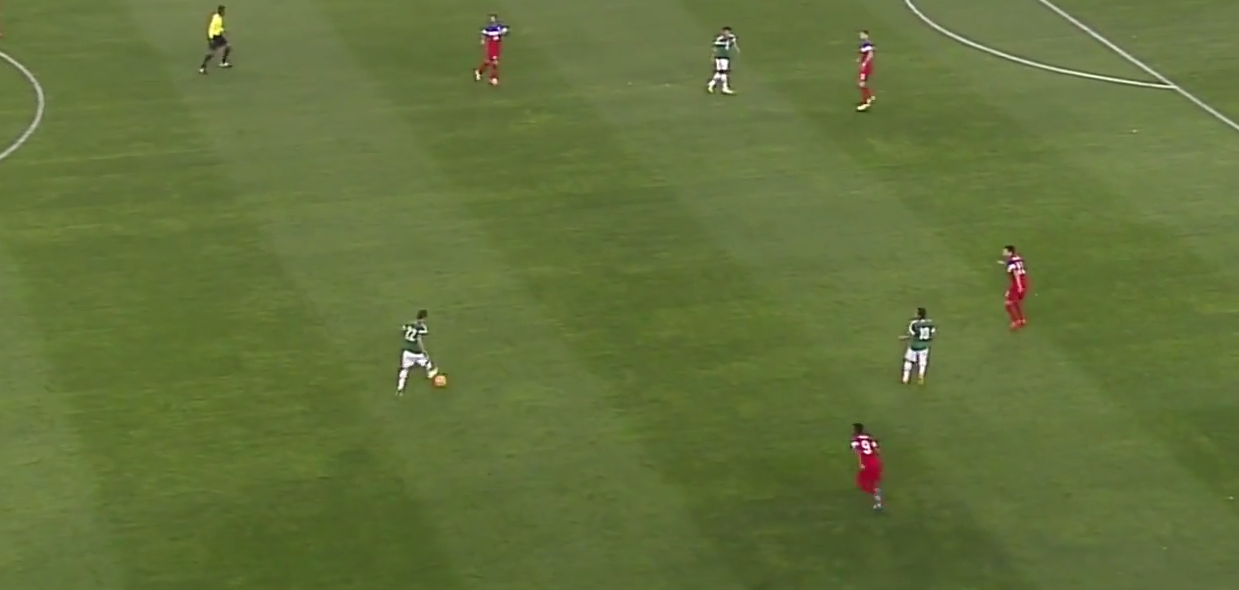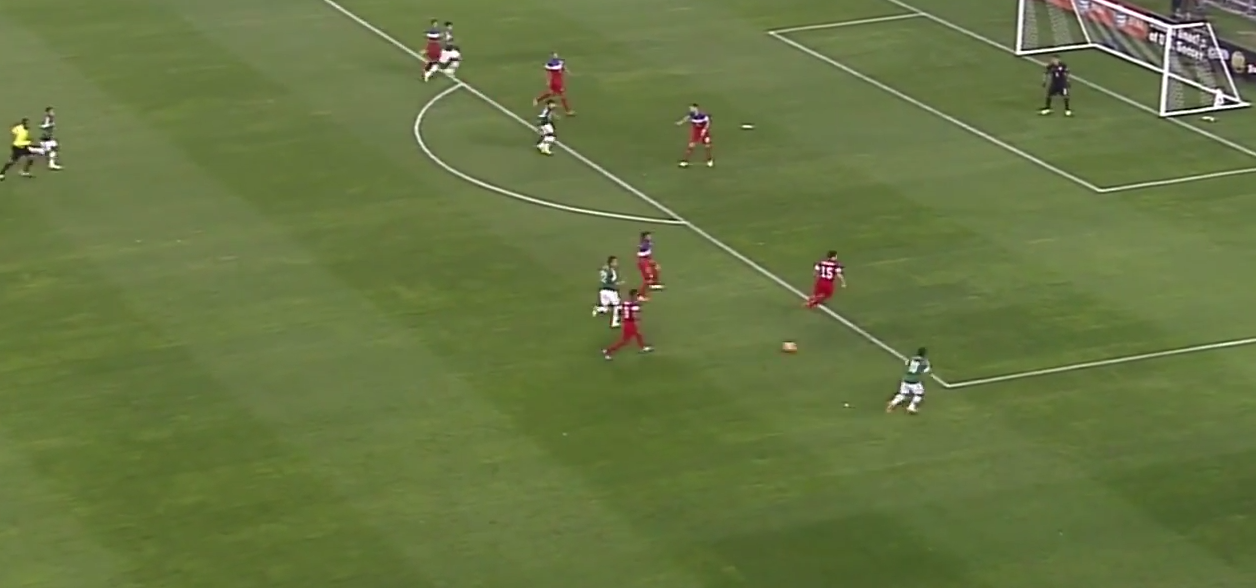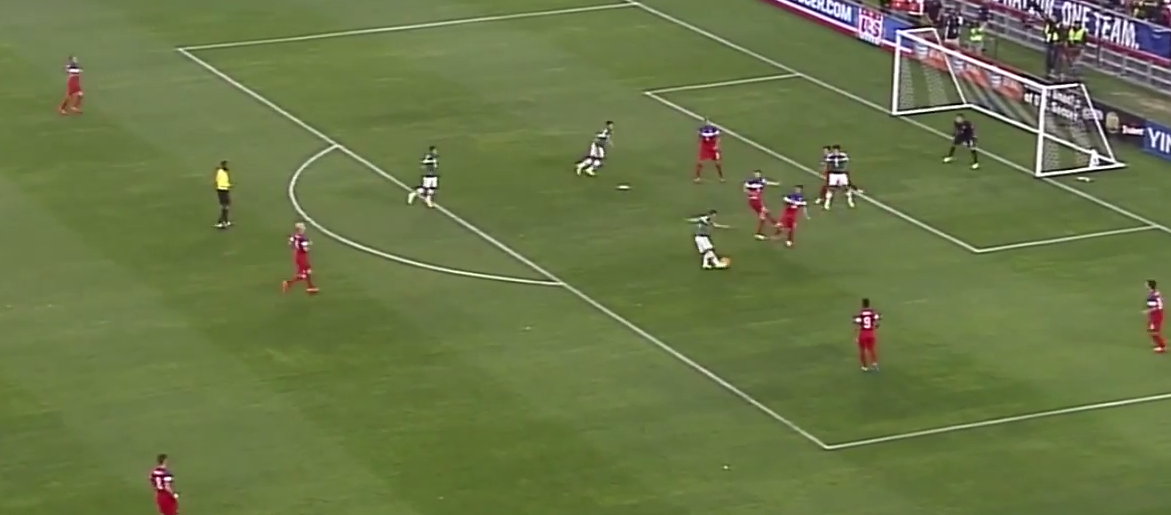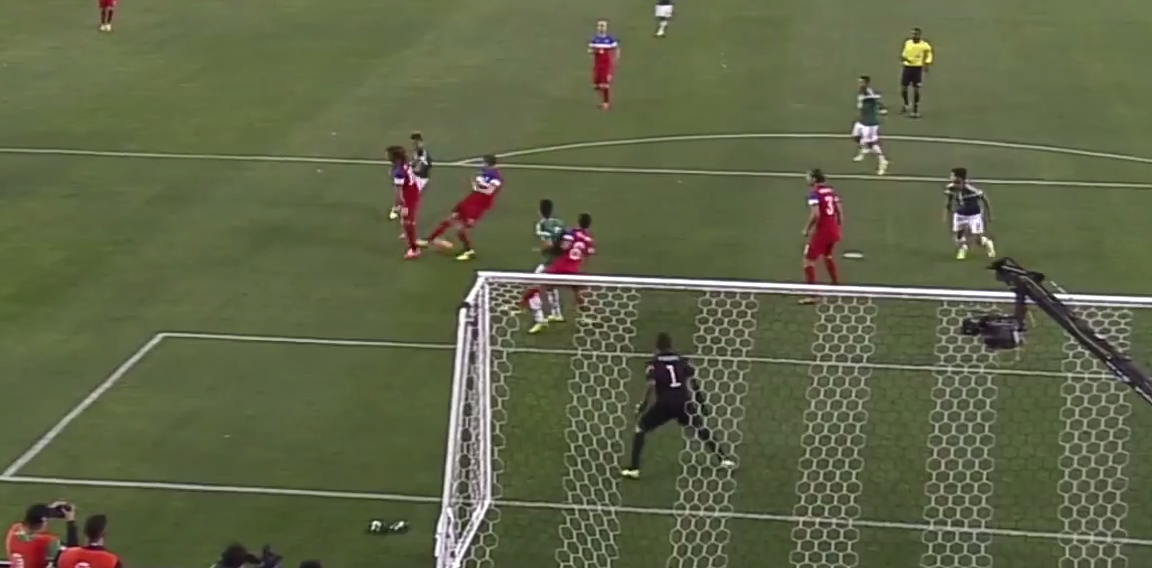 But since we're focusing on goalkeepers, let's look at Rimando's footwork. His jump set has his feet far too wide to be able to move to the ball. He has the time to shuffle and then dive but his wide stance removes that opportunity. It's tough to do but that's what needs to be done to get a fingertip on the ball.
Rimando is a good third string goalkeeper for the World Cup and Americans should be excited about his addition in Brazil, even though it is unlikely he'll see the field. This game doesn't exactly highlight his strengths but he is deserving of the spot.