Thank you Scotland for making this review a little bit easier on me. For the last two games of the year, neither Brad Guzan or Nick Rimando were called up for the Euro-friendlies. Guzan was reportedly dealing with an unnamed injury and Rimando was just left out in the cold. From Express and Star
Guzan was expected to be given a chance in at least one of the matches after starting in the USA's final World Cup qualifier against Panama last month.  Jurgen Klinsmann's side qualified for Brazil 2014 with Guzan fighting with Everton's Tim Howard to start while DC United's Bill Hamid and Sean Johnson of Chicago Fire trying to fill the third goalkeeping spot... Klinsmann said. "There are some injury issues that now give other players the chance to step up."
...and 7500 to Holte...
...it seems Brad Guzan won't be part of the squad assembling for these friendlies. Instead, Tim Howard, Sean Johnson and Bill Hamid were the goalkeepers named by Jurgen Klinsmann. According to Twitter and some actually reputable news outlets, Guzan isn't on the list because he's picked up an injury. A vague injury. One that has yet to be confirmed or named by Aston Villa. Or articulated by any news sources.
So Howard starts while Johnson and Hamid pick up the slack. I'd expect for Johnson to start versus Austria on Tuesday but reserve the right to not be excited about it.
[youtube=http://www.youtube.com/watch?v=gLqypKd8pVc&w=560&h=315]
Starter: Tim Howard Bench: Sean Johnson Not in 18: Bill Hamid
::::::::::::::::::::::::::::::::::::::::::::::::::::::::::::::::::
Howard only had one save so I'm going to look more at his positioning than usual because what else is there to talk about when a goalie only saves one shot?
Seventh minute, a cross gets sent in that Cameron clears while Howard does the "should I, shouldn't I?" dance in the box. The ball drops to Craig Conway a top of the box and Howard does about fifty jump sets that continually inch him forward to the ball.
It's small, as is this post on this game, but he's cutting down his reaction time and opening up a backdoor chip. It doesn't affect the game but it's not a good practice.
Twenty-fourth minute, Howard faces a free kick outside the box. But the free kick taker, Charlie Mulgrew, has lined up so drastically to the right of the ball that the only realistic shot on goal would be right at Howard.
Howard easily sees this over.
In the thirty-sixth minute, Howard faces a somewhat similar situation that he faced against England in 2010: a simple throw-in unzips the back line when the CB unsuccessfully chases the ball up field. However, Scotland does not have Steven Gerrard on their team and do not put the ball on target. Howard does a good job of covering the goal width.
Howard makes zero saves in the first half and is still at a 0.0 for his GSAR at this time. A few minutes into the second half he is finally called upon.
Yawn? I thought so too. US Soccer only gave him one save for the game (and we all know what's coming up next) so I guess they thought this was too easy to credit with a save as well. Howard takes note of how boring this was and makes up for it by giving us a wonderful distribution.
Fifty-third minute and we get the save of the match.
[youtube=http://www.youtube.com/watch?v=BJ77Olakko8&w=560&h=315]
For all those Howard nay-sayers saying he struggles with long free kicks... yooou could still argue that because this is actually very different from previous free kick goals. Here, he can see the ball before the shot but against Guatemala he could not. So while the shot is a little faster at ~57 mph, Howard has a full second to get to the ball as opposed to less than half a second. In the first ever "How They Saved [It]" Howard reveals that he was expecting the shot to go to his left. So Howard sees the ball the entire way to a spot he is already leaning towards. Not to take away from the save, but it is different.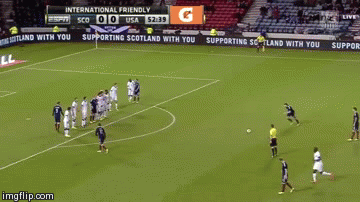 If Howard doesn't make that save... well there might be people screaming for Guzan but I don't think anyone would really blame Howard on that one.
shutout: -0
36' catch: +.01 53' save: +.77
Total: +.78
And that was it. Don't be surprised to see Johnson on Tuesday. [SPOILER IT IS HOWARD AGAIN]